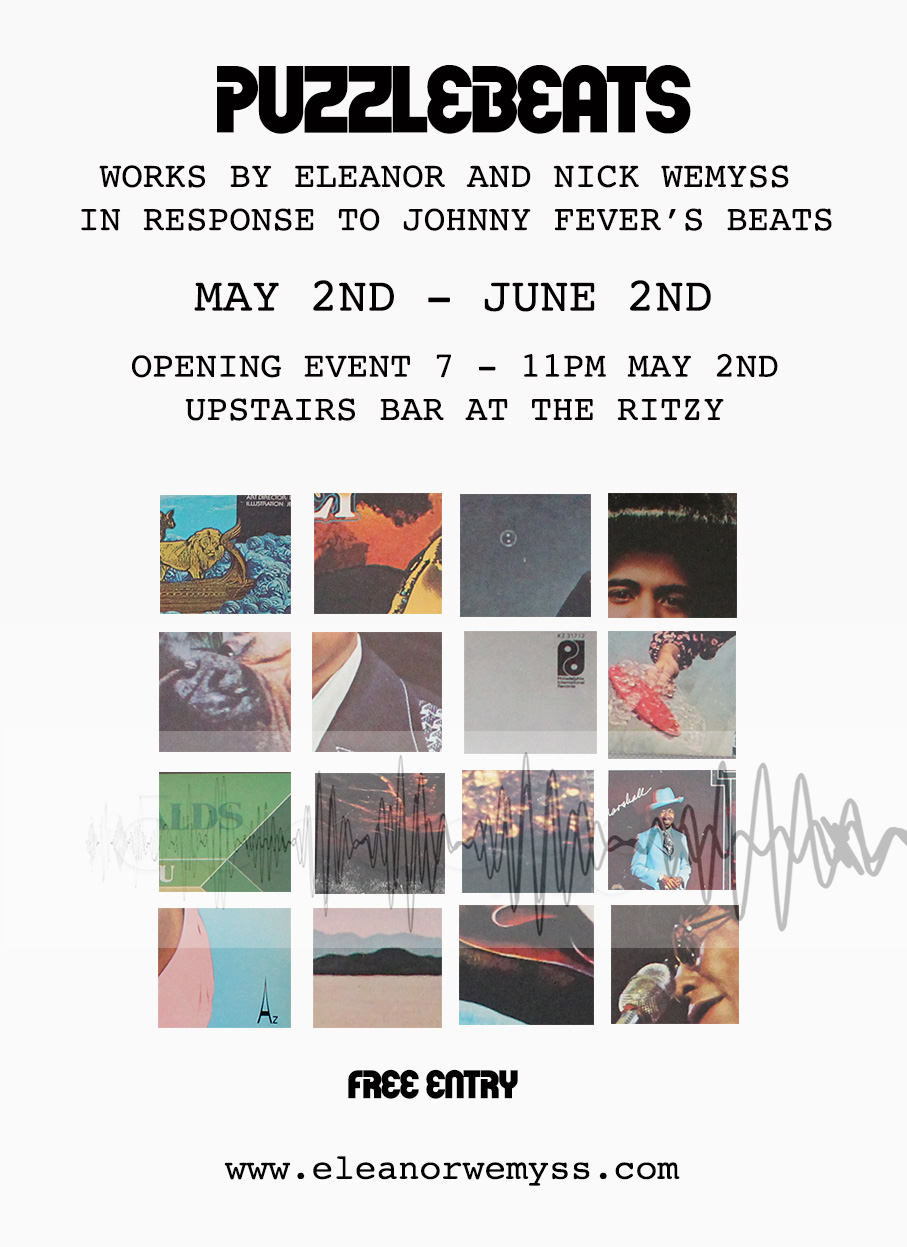 https://www.facebook.com/events/284807555274954/
Puzzlebeats re-imagines and re-interprets 1970's Soul music exploring the practice of MPC sampling through visual art. The exhibition brings together three artists from different creative disciplines: Eleanor Wemyss (a visual artist), Nick Wemyss (a furniture designer) and Johnny Fever (a music producer).
The two installations were created in response to the beats composed by Johnny Fever in Paris and New York in 2016 and are the result of 6 months collaboration, conversation and research. Intricate lines interweave sonic waveform drawings on a backdrop of colour, design and Soul music.
92 – Jerry Mine (New York, October 2016)
This is the second beat that Johnny Fever made in Greenpoint, Brooklyn, using the MPC3000. The loop was constructed from various chords of 'If This World Were Mine' by Jerry Butler and Brenda Lee Eager with the drums re-arranged from Al Green's 'I'm Glad You're Mine'.
96 – Gloria There (New York, December 2016)
The sixth beat composed in New York, this samples Gloria Lynne's 'I'll Take You All The Way There' for the loop and Bill Wither's 'Use Me' for the drums.
84 – Aretha Baby (Paris, June 2016)
Made on the MPC 2500, this beat re-arranges the piano chords of Aretha Franklin's 'Oh Baby' and the drums of 'You're Getting a Little Too Smart' by The Detroit Emeralds.
80 – Randy Good (Paris, May 2016)
The warm and clean guitar chords come from Randy Brown's 'You're So Good', whilst the drums come from a selection of vinyl that Johnny Fever sampled before heading to Paris.
79 – Cory First (Paris, May 2016)
This beat is a re-arrangement of 'Let Me Be The First One' by Cory which was found in Marché Vernaison, a flea market in the north of Paris.
Again, Eleanor's sonic waveform drawings flirt with trajectory lines on a backdrop of colour and the visual sample. As each panel represents a different sample and thus a different element within Johnny Fever's beats, the relationship between line and colour changes.
The prioritisation of bold straight lines in 'Aretha Baby' points to Johnny Fever's use of the famous drum break in 'You're Getting a Little Too Smart' by The Detroit Emeralds.
Whereas Randy Good's warm guitar chords, sampled from Randy Brown's 'You're So Good', are symbolised in Eleanor's use of deep earthy colours.
Jerry Mine's intricate drum pattern, re-arranged from the drum break in Al Green's 'I'm Glad You're Mine', can be seen in Eleanor's signature waveform drawing which is to scale to the nearest 0.5mm.
94 – William Was (New York, November 2016)
'William Was' is the second beat that Johnny Fever made in Greenpoint, Brooklyn, on his MPC3000. It references 'Memories Live' by Hi-Tek and Talib Kweli off their album Reflection Eternal.
Samples include:
William Bell – If Sex Was All We Had (main loop)
Detroit Spinners – Heaven On Earth (drums)
BT Express – Do It ('Til You're Satisfied) (drum fill)
Bob James – Shepherd's Song (sparkles)
Kero One – Fly Fly Away (bass)
Rare Earth (in concert) – Get Ready (crowd noises)
Listening to each individual sample, Eleanor creates a visual interpretation of the overall rhythm and sonic texture of 'William Was'. Her signature style of sonic waveform drawings intertwine with trajectory lines to interpret Johnny Fever's re-arrangement of the samples.
The inclusion of crowd noises from Rare Earth's 'Get Ready' serve as a supportive yet vital element in the vibe of 'William Was', mirroring the texture created by Eleanor's interwoven angular lines.
The simplistic and repetitive nature of the bassline sampled from Kero One's 'Far Far Away' can be seen in Eleanor's recurring cyclical waveforms.
https://soundcloud.com/beatsbyjohnnyfever/sets/puzzlebeats
Works can be purchased below, if you wish to buy more than one piece then please contact me to organise a new price. Works are 25.4cm by 25.4cm and 2cm deep. They are a combination of Gouache, pen and collage on wood. 
William Was
Mixed Beats
Jerry Mine
Gloria There
Aretha Baby
Randy Good
Cory First